Sports
The Great Debates tournament: Round of 32
Alright, things are heating up for those of you who understand the concept. The big-name debates largely rolled on with a couple of alliterative exceptions as Rest vs. Rust and Nature vs. Nurture were ousted.
The closest contest of the opening round was the Beatles/Stones debate vs. the Nirvana/Pearl Jam question. Music arguments always get the blood running hot, so there's no surprise that fans have spent an equal amount of brain cells yelling at each other over these two transcendent debates.
The only fair way to figure out a winner was via coin flip, which Beatles vs Stones won heads over tails. Flannels and Doc Martin's may be making a comeback, but we'll have to entrust the youth to carry on the grunge titans' legacies with band shirts and questionable style choices.
I like to look at these as historic court cases that lawyers cite in arguments.
As per the groundbreaking 2021 LeBron vs. Jordan decision, the courts show that championships take precedence over personal awards, so in the case of Eli Manning vs. Drew Brees, the court rules in favor of the Manning family.
G/O Media may get a commission
Eli, any comment?
"I just knew that god was in my corner and that despite Drew's stats, my rings would prevail. I'd like to thank Jesus. Without him, this wouldn't be possible. Peyton, let's celebrate!"
I'm not sure whether that helped or hurt the confusion, so let's just move on. The 32 remaining debates follow, but if you'd like to check out the original field of 64, you can read that here. Also, be sure to follow us on Twitter @deadspin for the next rounds of voting.
First Take Region No. 1: LeBron James vs. Michael Jordan

For some the choice is obvious, for others it's the type of sports debate that makes you feel like your T.V. is slapping you in the head at 10 a.m. Whether you hate or love this classic, it will make you feel something.
Michael Jordan is the face of the modern NBA. He took the interest that Magic Johnson and Larry Bird injected into the league in the early 80s and used it to build the first athlete economic empire. The NBA was selling its individual stars to market the games so Jordan's agent — David Faulk — took it one step further with his client. He wanted Nike to market Jordan like a tennis star. Like a singular athlete.
LeBron James had seen the success of this his whole life and set a plan into action early. He signed a $90 million deal with Nike before he signed with the Cleveland Cavaliers. Since then, James has started a fast-food pizza restaurant and also owns a production company that remade both Space Jam and the early 1990s classic House Party.
These two are true A-list celebrities. Not just sports famous, but pop culture icons like Michael Jackson, Eddie Murphy, Jack Nicholson, etc. Also one has the highest points per game average in NBA history and the other holds the record for total points scored.
– Stephen Knox
First Take Region No. 8: Peyton Manning vs. Tom Brady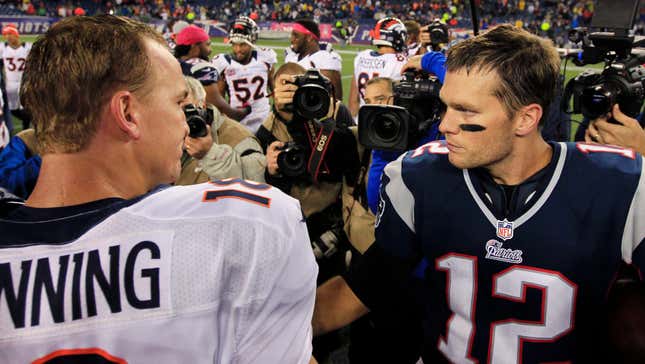 This should really be Tom Brady versus the field because he has no peers whether it be statistical or team success. Yet for a time there, Manning felt like the better quarterback because he was the team. The Colts went how Peyton went, but the Patriots could survive a subpar outing by Brady. We eventually realized that a lot of those below-average box scores were a product of Bill Belichick's game plan. New England never cared about aesthetics as long as they won.
If Manning wasn't humming, it was difficult for Indianapolis to compete.
That doesn't all fall on Peyton though, and if we were to resurrect this debate, which is what we're doing, coaching played a huge part. Tony Dungy has aged about as well as a transphobic cantaloupe while Belichick is still drawing up stifling defenses.
All things considered, Brady passed Manning, in my opinion, because he perfected the chess match at the line, the one that Manning invented. And that's some Super Skrull, T-1000-level shit. He absorbed Manning's trick like a shot of botox and built on it.
-Sean Beckwith
First Take Region No. 5: Muhammad Ali vs. Mike Tyson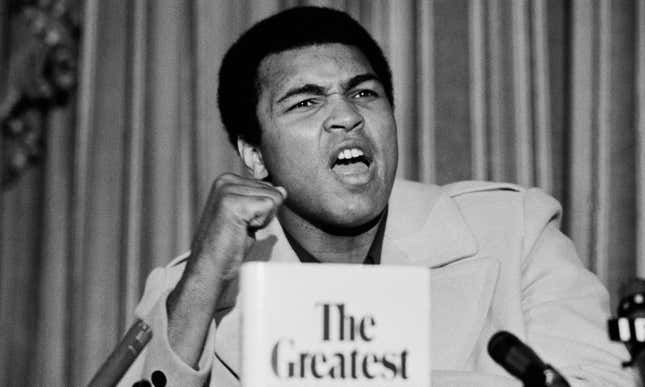 These are two forces that the world of boxing had not seen before or since. The time in their careers when they were most dominant was short-lived, but that handful of years left a mark by which boxers are still measured.
Muhammed Ali and Mike Tyson were heavyweight boxers. This is a division in which ferocious punishment is both endured and delivered. These large men swing as hard as they can at each other. Yet, in their prime neither fighter took much damage.
Ali had near ballet movement in the ring in the 1960s. At 200-plus pounds, no one was able to close in on him. For those who believe he didn't have power, the men he knocked out that decade might have a different opinion.
When Ali first beat Sonny Liston in 1964, he took the Heavyweight Championship from him. Sonny Liston was the baddest man on the planet and didn't come out for the seventh round. Until Ali was stripped of his title for refusing to serve in the Vietnam War over religious objections, of his nine title defenses only two went to decision.
Tyson bulldozed his way through the heavyweight division in the mid-1980s. He was quite possibly the scariest man alive because he was knocking people out before a bag of popcorn could be popped. Fame and ego took Tyson's Heavyweight Championship as opposed to a military draft, but at his best, his hands were real weapons.
In 11 Heavyweight title defenses — one of course the loss to Buster Douglas — only three of his victories lasted longer than six rounds. At only 5 foot 10, Tyson turned the heavyweight division into heavy bags.
At their peak, Ali and Tyson were the two best to ever put on the gloves and boots.
– Stephen Knox
First Take Region No. 13: Aaron Rodgers' place among all-time quarterbacks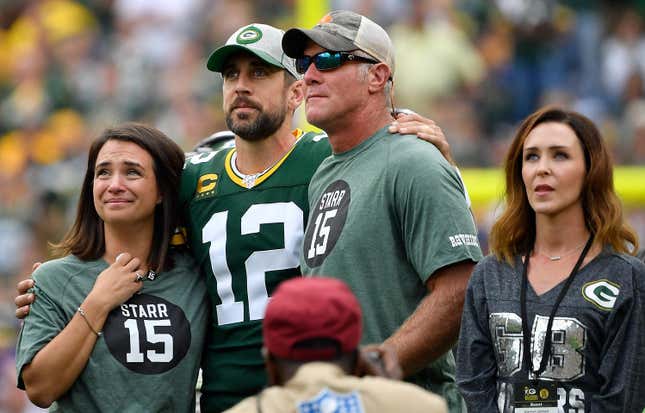 I have no idea when this narrative picked up steam. Aaron Rodgers is a great quarterback. He has all the tools and a flamethrower of an arm. I know we don't like to compare guys who've won Super Bowls to those who have not, but hear me out.
Rodgers is a modern-day Dan Marino. Both went to Super Bowls early in their careers, routinely put the fear of god in their divisional opponents, amassed gaudy numbers, and haven't had playoff success on par with the praise they received. Just because Cris Collinsworth has an on-air orgasm every time A-Rodg completes a 15-yard out route doesn't mean he's on Tom Brady or Joe Montana's level. It'll be interesting to see how fierce the Rodgers' zealots remain once he moves to New York and gets dismantled by Bill Belichick twice a year.
– Sean Beckwith
First Take Region No. 6: Babe Ruth vs. Willie Mays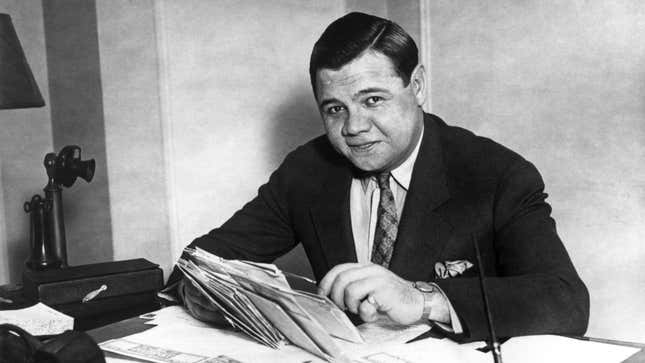 Before Michael Jordan and LeBron James, the most common greatest athlete argument was The Great Bambino and The Say Hey Kid.
Babe Ruth was the original Shohei Ohtani. Ruth began his career as a pitcher. He didn't record even 100 at-bats until his third season with the Boston Red Sox. That was 1916 when he won 23 games with a 1.75 ERA. Four seasons later he pitched one game for the New York Yankees and hit 54 home runs.
Willie Mays came up through the Negro Leagues and was on the field for the New York Giants shortly after his 20th birthday. He spent much of the 1952 season and all of 1953 serving in the Korean War. Mays returned to the field in 1954, hit 41 home runs, and won his first MVP. He would go on to win 12 consecutive Gold Glove Awards in center field and hit 660 home runs.
Depending on who you talk to, a person might say that if Mays hadn't been drafted into the United States Army, he would've broken Babe Ruth's record long before Hank Aaron and later his godson — Barry Bonds.
Mays was never an MLB pitcher. Ruth never played in an integrated league. Two of the best, and people of a certain age will argue all night about which one was better.
– Stephen Knox
First Take Region No. 14: Best sports era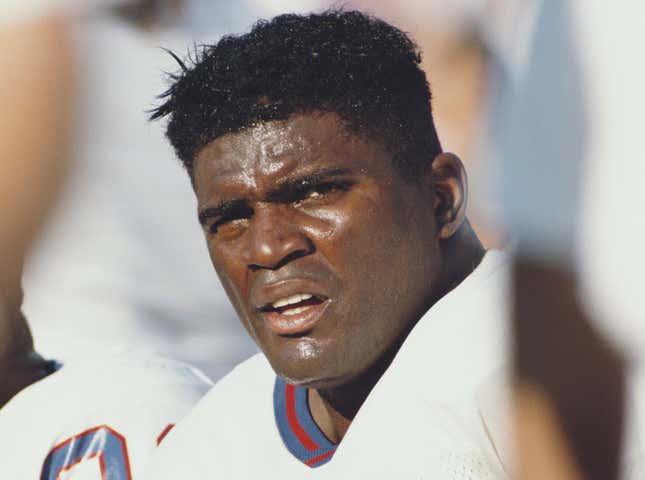 It's easy to romanticize the past. Times were simpler, air was fresher, and sports were played by real men. Yes, can we please return to an era where point guards got dry-humped after stepping across half-court, Joe Theisman got crumpled into a heap of flesh and bone by Lawrence Taylor every other play, and pitchers threw curve balls until their arms fell off.
The last time two of my favorite teams were relevant was the '90s, but I'll be damned if I want to bring back the option, or 7-footers sweating all over each other, trying to see which team can make the most hook shots. Your dad, and, well, myself, might scream at the television when an edge rusher gets flagged for tackling a quarterback, and we overcorrect for past mistakes. Yet, give me high-octane offenses that put the best athletes in space as opposed to seeing what team can win a game of tug-of-war.
– Sean Beckwith
First Take Region No. 7: Robert De Niro vs. Al Pacino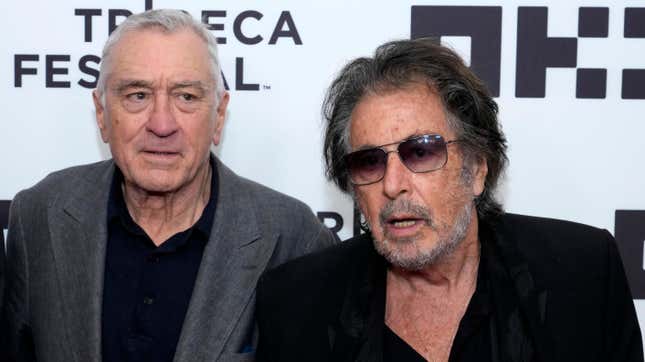 I'm not even Italian, and I have trouble picking between these two. This is a natural rivalry because of the genres they occupy, and the almost mystic aura around both appearing in scenes together. Godfather II is just two actors handing the Academy Award back and forth for three hours, with a masterclass of character acting from John Cazale sprinkled in.
We've seen Pacino and DeNiro spiral into madness in Scarface and Taxi Driver respectively, and each has an arthouse catalog, too. While DeNiro is better at comedic roles, Al's unintentional comedy is through the roof. Pacino has more Oscar nominations (9 to 8), but DeNiro has one more statue (2 to 1). Also, the later work of each Hollywood legend seeps into caricatures, and that peaks in 2008's Righteous Kill. It was overhyped specifically because they were sharing scenes in a movie, and it could not have been more forgettable.
I think DeNiro's constant collaboration with Martin Scorsese gives him the edge in a lot of people's minds because of those movies' place in Hollywood lore. Yet I could be talked into Tony Montana and Michael Corleone. It's very close, and that's why it's on here.
– Sean Beckwith
First Take Region No. 2: iPhone vs. Android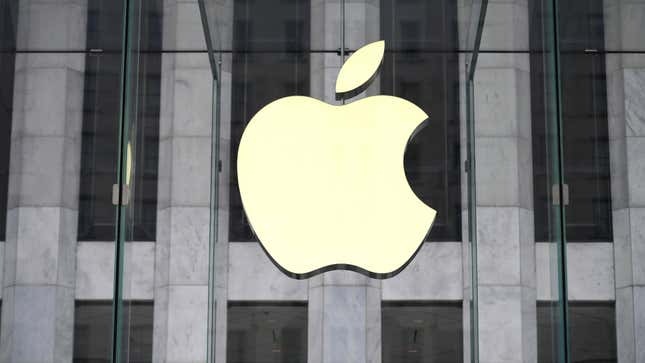 The green bubble vs. the blue bubble.
Fashion dictates that anything a person walks out of the house with can be considered stylish if put together with intent and flaunted with confidence. However, there are usually some base requirements.
For a rapper in 2003, it meant wearing a jersey that extended to at least their mid-thigh. In the early 2010s, it meant the tighter the jeans the better for young people. Who cares if they want to procreate later in life?
Phones have been part of that as well, but in the aughts, it was mainly young people with their Razors and Sidekicks. Nowadays, an iPhone is almost considered as standard as a man wearing a tie to a business interview. How dare a group chat be besmirched with the site of that ugly green bubble. If you don't have air pods, can you even hear?
For all of those white commas hanging out of people's ears at the grocery store, there are still some people who are willing to part with standard formalities. They don't need facetime, iCloud, or a phone that slows down when a new version is released.
Samsung is on its 23rd Galaxy and the NBA is advertising the new Google Pixel 7 during every game, so there are still many android users among the general population. Are those people tacky, or are they seeing with their third eye?
– Stephen Knox
Siskel & Ebert Region No. 1: Cats vs. Dogs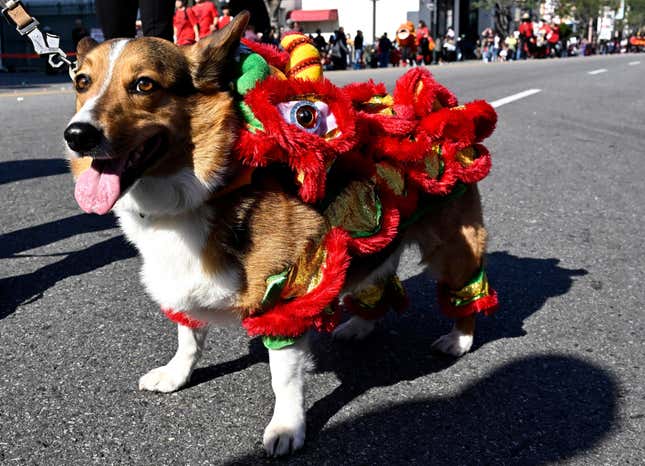 Let's be a little more creative than splitting this down the gender line. You know cat people, I know cat people, and there are certain people who are just cat people. But this isn't about which version of a crazy cat person or Best In Show dog obsessive is worse. It's about the animals themselves.
The nicest dogs are as great as the nicest cats, and ditto for the worst dogs and worst cats. I just think your average run-of-the-mill (not puppy mill, please, responsible practices for both species) dog is better than an average cat. The upside of felines is less maintenance. You don't have to walk them or make sure to let them out every so often. With dogs, you get to bring them outside and on camping trips and a lot of other places. (Probably too many, but again, let's focus on the animals, not the terrible owners.)
I don't know who prevails in cats versus dogs, but I do know who wins in journalists versus cats and/or dogs, so I am aware of just how pervasive this argument is.
– Sean Beckwith
Siskel & Ebert Region No. 8: The Beatles vs. The Rolling Stones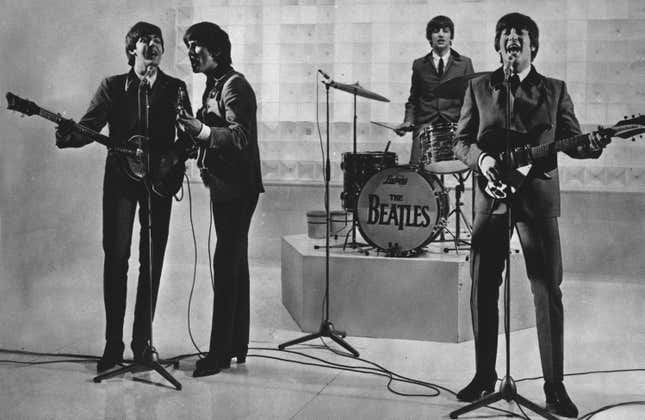 This is one of those arguments that happens naturally. Both bands jockeyed for supremacy largely in the same realm and had enough back-and-forths — perceived or real — for fans to pick a side. The Beatles were a lot like early Disney, with a wink and a nod to adults, while Mick Jagger made no bones about shoving his crotch in your face.
And the music reflects that. Gimme Shelter is a staple of Martin Scorsese movies, and there have been no fewer than three million Beatles songs and/or references in Wes Anderson's filmography. The reason it's such a timeless argument is that the bands themselves are. Though it's impossible to argue who's more resilient: Paul McCartney or Keith Richards' liver.
– Sean Beckwith
Siskel & Ebert Region No. 12: Sammy Sosa vs. Mark McGwire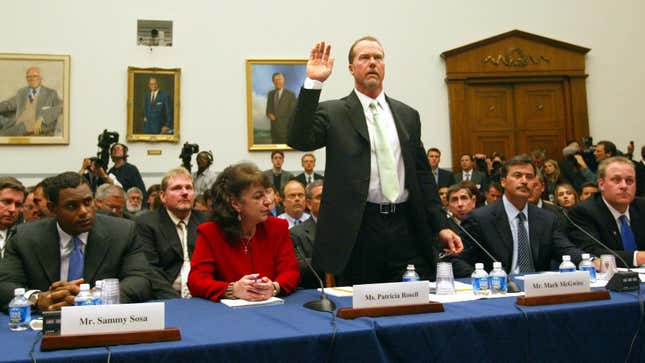 The differences between Cardinals fans and Cubs fans are vast. One group demands excellence, the other is fine showing up and getting shit-canned and sunburnt. One values postseason success, and the other literally LOVES losing. This isn't about who's the participation trophy of fan bases though. It's about Mark McGwire and Sammy Sosa.
The one thing that connects both those who adore the Red Birds or Cubbies (you can't do both) was having to defend overtly juiced sluggers in the summer of 1998. You could argue which is better, but the real discussion revolved around what was ethical. In the end, both fell from grace (one harder than the other – I mean, what the hell, Sammy), but if you ask me, the guy who topped Roger Maris' mark first won the home run race and subsequently the debate.
– Sean Beckwith
Siskel & Ebert Region No. 4: Larry Bird vs. Magic Johnson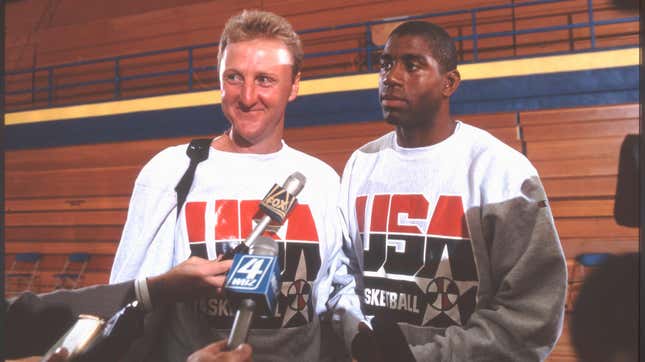 In 1984 a person's answer to this question likely depended on pigmentation. If Bruce Springsteen made you want to shake your booty you were likely a Larry Bird fan. For those who preferred Rick James, Magic Johnson was probably the player for you.
Both are two of the best players in the history of the NBA. There were similarities in their basketball strengths, but they did not play the same way.
Bird was the prototype for the modern NBA forward. Give him a crack of daylight and that jump shot is falling right out of the bottom of the net. However, if the defense cheated to close in on him, he can flick a pass over an opposing player's head or around their back for a quick assist. He was tenacious on the glass as well, averaging 10 rebounds a game for his career. Bird would also hit the ground like Dennis Rodman for a loose ball.
Johnson combined power and speed at guard in a way that the NBA had never seen, and wouldn't again for some time. At 6 foot 9, Johnson had the Lakers' offense rolling at a 100-meter-dash pace from the opening tip to the final buzzer. He bullied smaller players and dribbled by bigger ones. Johnson's priority was to find the open man, but as strange as his shoulder heave of a jump shot looked, it worked. Bird never attempted 3.5 threes per game, but Johnson did once and made 38.4 percent of them.
They not only ruled the NBA for most of the 1980s but globalized a sport that televised the NBA Finals on tape delay the year that they were drafted.
– Stephen Knox
Siskel & Ebert Region No. 6: Bret Hart vs. Shawn Michaels & Vince McMahon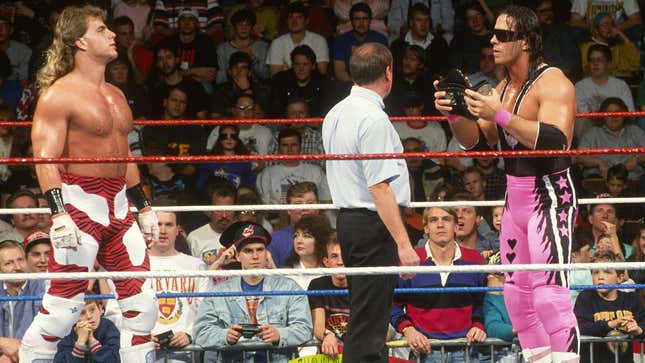 Did Survivor Series 1997 have to go down that way?
Bret Hart was on his way out of the WWF but was still the world champion. He had to relinquish the belt before bolting for WCW. Nothing could have been worse during the Monday Night Wars for WWF than Hart showing up on Nitro with its World Championship belt.
Taking the Wrestling with Shadows documentary's word for it, Hart would never have left for WCW with the belt. He was willing to relinquish it but on his terms since he had reasonable creative control over the final days of his contract. Hart certainly didn't want to lose in Canada to Shawn Michaels after an anti-Canadian storyline that the WWF had been building for months alongside Hart's anti-American one.
However, a payoff like that is how pro wrestling works. The fans get riled up about the over-the-top storylines and performances, and there is eventually a payoff. There was no better payoff for WWF fans than Hart losing the title in Canada to Michaels before he left for WCW.
Hart didn't want to do it. He instead agreed to a disqualification that allowed him to keep the belt and then cede it to the company on Monday Night Raw.
Vince McMahon didn't find that satisfactory even though he agreed to it — per the surreptitiously recorded conversation he had with Hart in the documentary. Instead, McMahon ordered the bell to be rung and the belt was given to Michaels. Hart spit in the face of McMahon, who was standing ringside, then later punched him in the face backstage. And with that, the Attitude era was off and running.
– Stephen Knox
Siskel & Ebert Region No. 14: Joe Montana vs. Dan Marino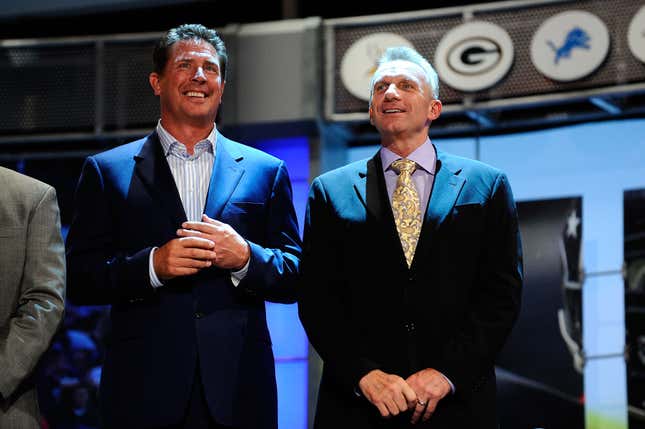 Rings culture has already decided this battle, but at the moment — which was when I was between 5- and 10 years old — both Dan Marino and Joe Montana were Paul Bunyan-type figures. Again, it could be that I was young and all football players felt like urban legends. Montana and the San Francisco 49ers pummeled everybody on their way to Super Bowl titles, and Marino was in Ace Ventura and Bad Boys II.
For those who lived through it, I imagine it was a prequel to Tom Brady vs. Peyton Manning, only if Peyton never won a Super Bowl. Coincidentally, Bill Belichick was so much like Bill Walsh, from a football genius standpoint, that they're matched up in this very bracket.
Shameless plugs aside, there were no hair plugs needed between Montana and Marino, and the only real argument when it was all said and retired was whose hair was more feathered and more lethal.
– Sean Beckwith
Siskel & Ebert Region No. 7: Stephen A. Smith vs. Skip Bayless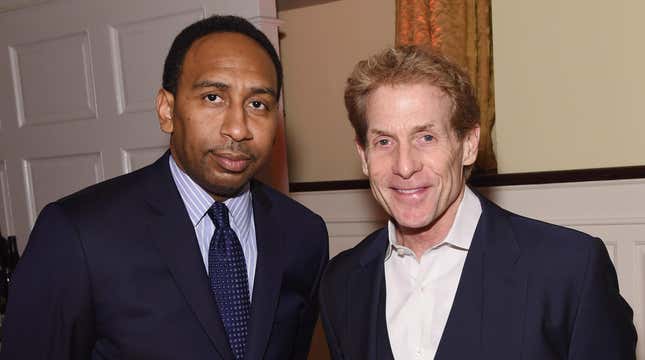 If you were to write a soap opera about professional sports, these two shouting heads would be your protagonists. They can milk any mundane storyline for drama and can deftly insert themselves into the storyline without a degree of shame. At one point, they were the tag team champions of sports shouting. Today they shout at new sidekicks, hoping the other will hear them from across the country. Sometimes they even take aim at one another. Their ability to garner attention over their perspectives on the same five topics, Cowboys, Lakers, Knicks, Russell Westbrook, and Kyrie Irving are awe-inspiring.
Your preference for Stephen A or Skip's inflated egos says something about you though. Swill their shows around on a Monday morning and determine which one you detest listening to the most. Skip is more of a whinier brand of sports shouting, and Stephen A is a toxic bravado. Skip is a classic cyberbully. Stephen A is the obnoxious D-List celebrity who thinks he's a headliner. The correct choice is neither.
– D.J. Dunson
Siskel & Ebert Region No. 2: Lionel Messi vs. Cristiano Ronaldo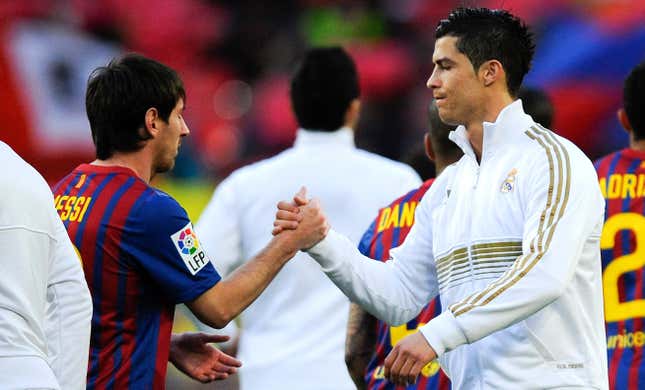 The people who think Cristiano Ronaldo is better than Lionel Messi eventually bring up Ronadlo's dating history as if that's supposed to sway an argument. Is it really about who he's fucked, or are you fucking him? No judgment. Just be open with yourself. Ronaldo is a genetic freak who was created to score goals and serve as a role model for how not to handle stardom.
Messi is an artist, a savant, a genius, but he's slight. And the argument folds in on itself from there. The internet has taken this debate to places no discussion should go, and it's beyond personal for a lot of people (mostly Real Madrid and Barcelona fans).
From a purely GOAT point of view, Messi vs. Ronaldo is the best-running GOAT debate we've ever had. The era of men's tennis that's winding down right now is close, but Ronaldo and Messi took turns winning accolades and trophies for basically two decades.
– Sean Beckwith
Pardon The Interruption Region No. 1: The meaning of life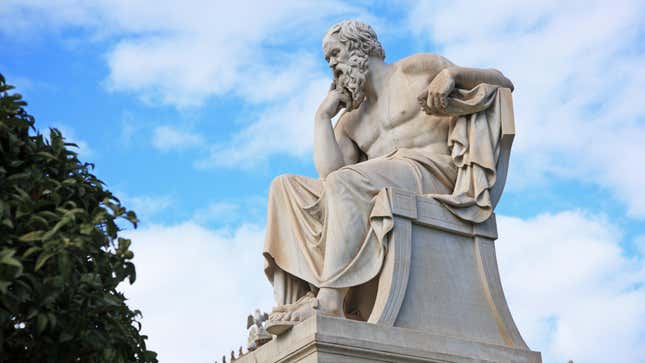 This is a true No. 1 seed as it's literally something you can major in. I'm pretty sure this question sparked philosophy, and it's still unanswered depending on how religious you are. I wonder about this every time I find myself aggregating frivolous clips of an athlete saying some shit on Instagram or Twitch or Twitter.
However, there is a level of recency bias in this bracket — why do you think Johnny Unitas vs. whoever Johnny Unitas' rival was isn't on here? I don't know how many young people are questioning their destinies. I've never seen #existentialism trending on Twitter or social media threads about heaven's PER or nirvana's WAR. I don't fault them. The grand scheme is frankly kind of terrifying to think about, and people who bring up Kafka and Nietzsche on a one-name basis aren't the kind of people I'm trying to talk to at a social event.
Go ask Greg about how to come to terms with your existence. Can't you see I'm trying to find mine at the bottom of this glass?
– Sean Beckwith
Pardon The Interruption Region No. 8: The Rock vs. Stone Cold Steve Austin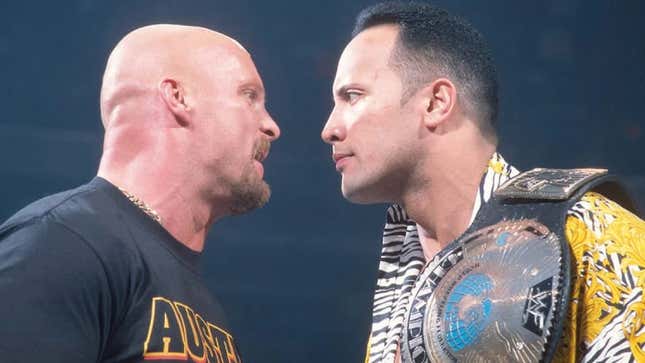 At the time, Stone Cold was the biggest wrestler ever, by far, at least in terms of his ability to draw money. He chugged beers, talked shit, and did it with as much charisma as anybody. That's why it was so alarming when The Rock showed up with just as much cachet, if not more. It was one of those feuds that made fans not want to pick a side.
Of course, we did, and if you chose The Rock, good for you. It goes without saying who won the post-wrestling career arc, though I feel like things could've gone differently for Austin without the injuries. I mean there's a chance this debate could still go to Stone Cold, but it's less dependent on his future actions and more about how many Black Adams the People's (but not Box Office) Champ has in him.
– Sean Beckwith
Pardon The Interruption Region No. 12: SEC vs. the field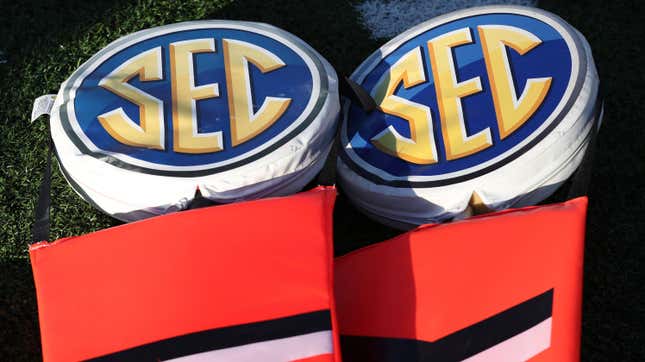 This relatively new debate arose along with Nick Saban's run at Alabama. The SEC learned how to game the system, which is 85 percent of college athletics and has more or less run the sport of college football since, fuck, I guess Pete Carroll's USC tenure. Fans in the South, hell people in the South, like to remind the rest of the country that their ways are the best ways.
However, this debate is about football, not whether COVID will rise again. I'm desperately rooting against all those jackass SEC fans who show up to games dressed like they're going to a party at the plantation because I can't take it anymore. The conference pride is taking on a tinge of something else, and we need a respite. (Paging Lincoln Riley.)
– Sean Beckwith
Pardon The Interruption Region No. 4: Nas vs. Jay Z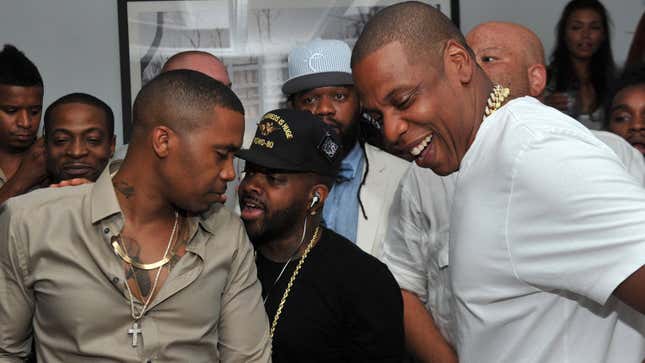 In the moment, it felt like Nas was the loser of his feud with Hov, and all these years later, Nas is still the loser. However, I was one of the people vigorously defending Escobar. Jay Z was this commercial success piggybacked off of Notorious B.I.G., and Nas was already so established that he beefed with Biggie himself.
To be fair, Nas did feel like the Angry Rapper, and perhaps that's why I was so drawn to him during my adolescence. Well, that and Illmatic should be in the top five of any all-time hip-hop albums list. I can't defend Street's Disciple or really anything after God's Son.
However, Jay Z got bodied by his own wife and may have (or definitely did) sell out Colin Kaepernick so he could run Super Bowl halftime shows. Oh, that and he buddied up with that antisemite Kanye West. (Technically, Nas also could be canceled, but I'm going to stop writing before I make everyone feel bad.)
– Sean Beckwith
Pardon The Interruption Region No. 6: Bill Russell vs. Wilt Chamberlain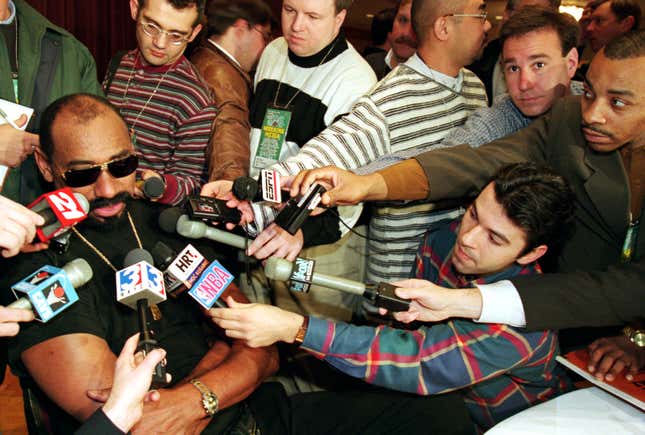 The reason you never hear about NBA players breaking Bill Russell's records is no one is ever going to surpass his career mark of 11 titles as a player and/or player-coach. He's the greatest winner in the history of basketball, and my guess is if he wanted to amass the stats similar to those of Wilt Chamberlain, he could've come close. He might not have scored 100 — even as a stat padder, Russell's internal integrity meter would've switched on — but the league lent itself to bouts of "anything you can do I can do better" for the players who towered over their peers.
And that was Wilt's favorite game. I can't pass, huh? Let me lead the league in assists just to prove a point. Here's a 100-point game. Let's see Bill try to top that.
Only Russell never took the bait because he wanted to win. Well, that and not getting traded by Red Auerbach for chasing records instead of rings.
– Sean Beckwith
Pardon The Interruption Region No. 3: 72-win Chicago Bulls vs. 73-win Golden State Warriors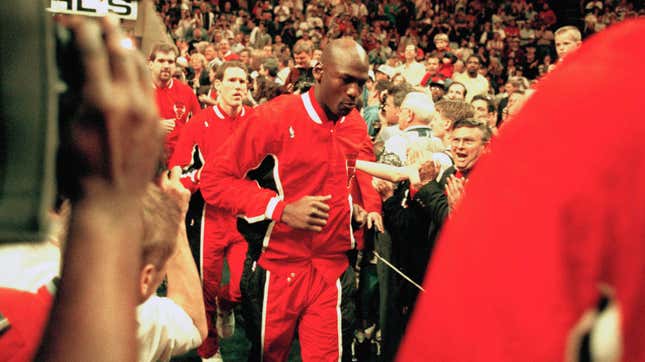 The 73-win Golden State Warriors are the model of modern-day basketball. Predicated on poetic off-ball movements by the Splash Brothers and Draymond Green at the nexus of his mental and physical peak, they remain the Platonic Ideal for modern basketball. The 72-win Chicago Bulls were the gold standard. Two decades earlier, the Chicago Bulls Triangle offense starring Michael Jordan and Scottie Pippen were the model of consistency. In a more physical, stagnant league, Jordan was as automatic from midrange as anyone has ever been. Each team's stans swear the other team couldn't hang in the other's NBA. They're probably both wrong though. The Phoenix Suns are proof that the Bulls could still flourish today behind hyper-efficient mid-range scorers while Golden State's analytically superior floor spacers would eat against defenses composed to battle in the trenches instead of around endless screens on the perimeter. These contrasting play styles are ripe for endless debate, which is why there have been so many through the years.
– D.J. Dunson
Pardon The Interruption Region No. 7: Breaking Bad vs. The Wire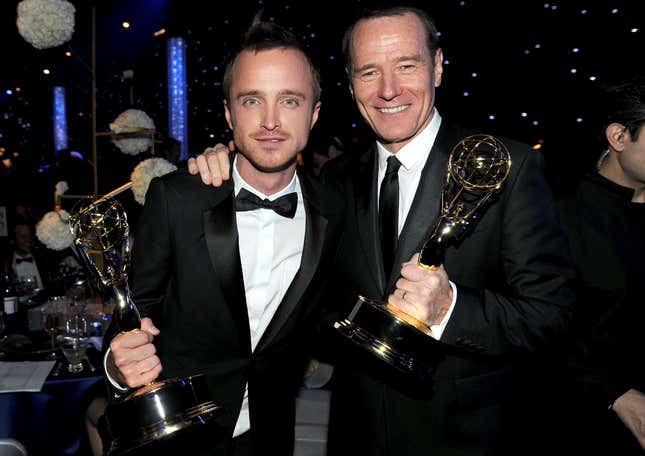 The anti-hero vs. an unflattering portrayal of America.
Both Breaking Bad and The Wire ran for five seasons. Breaking Bad actually first aired during the last few months of The Wire's final season.
Your preference between these shows usually boils down to how you like your television world. Do you prefer that they revolve around a person or a more macro concept?
The Wire is a show about — as creator David Simon calls it — "the fall of a great American city," A show about how, before judging the people on the corners selling drugs, one must take a look at how they got there. How their city, state, and country can turn kids into shotgun-wielding thieves.
Breaking Bad is a show about the fall of a person. Walter White is a sympathetic character at first. He is a school teacher who needs money because of a life-threatening illness — another dig at America's shortcomings. However, in the process, he turns into a murderous drug kingpin.
While both shows are considered among the best of all time, The Wire achieved critical acclaim in the years after its final episode aired. It got buried during HBO's golden era of television in the early 2000s. Breaking Bad was highly lauded throughout its run on cable television airwaves.
– Stephen Knox
Pardon The Interruption Region No. 2: Best Pizza (Chicago vs. New York)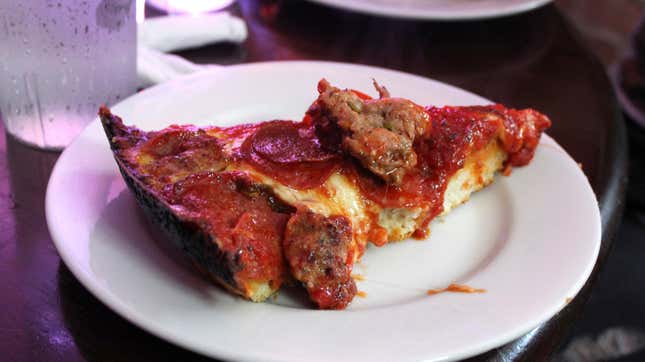 First and foremost we are going to level the playing field. Guess what New York, Chicago isn't the only city that sells pizza with sauce on the top.
Per the Brooklyn episode of Man vs. Food, Season two, L&B Spumoni Gardens serves a Sicilian-style pizza with sauce on top. The restaurant made it through the pandemic in New York. Feel free to go to Bensonhurst and get what some of you like to call a casserole.
Residents of both of these metropolises certainly don't eat that type of rich and expensive pizza on a regular basis. It's an option, but a more universally standard pizza is usually what families share on a Friday night.
In New York, that slice is usually wider. It can be folded, and while the cheese is tasty it is far from overwhelming. The dough is not necessarily thin but a light bite is more than enough to consume it.
A standard Chicago pizza could be thicker or even nearly cracker-thin. It's cut into squares so it can be eaten at a bar table and has a thicker cheese consistency. The main difference though is the crunch. That crunchy, greasy crust.
The sauce on both pizzas is largely the same, just the Chicago ones are more filling. Don't go for the third slice no matter how much it calls you. The ending is never good.
– Stephen Knox
McLaughlin Group Region No. 1: Biggie vs. 2Pac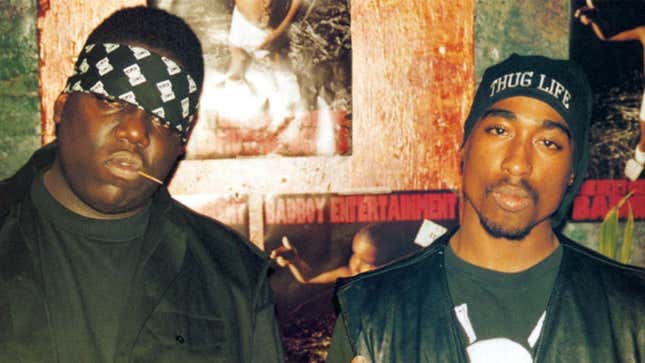 Yes, Tupac Shakur was more famous. Biggie was great playing himself on Martin, but Tupac was an actor capable of owning movies. He was bigger than simply a musician. Tupac was a star.
His personality was a force both for good and bad. He could make some truly profound statements about the state of the world, but he also went to jail for sexual assault and reveled in an out-of-control persona.
Biggie was about the music, and few have ever spit better bars into a microphone. We only got two solo Notorious B.I.G. albums. His debut — Ready to Die — was of the same quality as The Chronic and Illmatic. The next one — Life After Death — was a strong project but fell just a bit short. As a musician sometimes it's hard to get back to the hunger and raw storytelling of a debut album. Unfortunately, we never got to see him try again.
Two young people, gone too soon, who left indelible marks on American culture.
– Stephen Knox
McLaughlin Group Region No. 9: Is Die Hard a Christmas movie?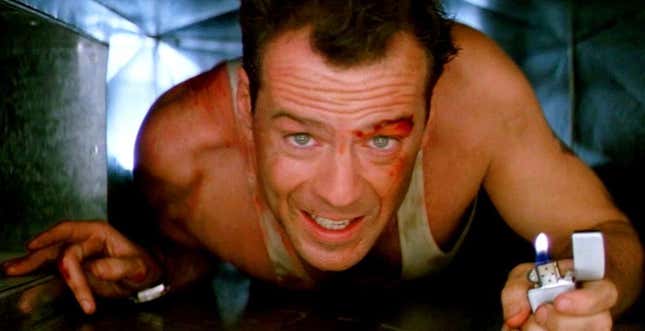 A movie doesn't have to conform to what Hallmark thinks is a Christmas movie to be a Christmas movie. Cinematic masterpieces are often multiple things at once, and even though Diehard features a lot of action, it has a Christmas song, Christmas hats, a Christmas tree, a Christmas gift, and a family trying to overcome odds to open presents together.
I'd argue Die Hard is more of a Christmas movie than Violent Night, but I'm trying to do away with gross stereotypes of what counts as holiday cheer. How about this: Some people argue that Planes, Trains and Automobiles is a Christmas film despite Steve Martin trying to get home for Thanksgiving dinner. Are the people who enjoy John Hughes' classic doing it wrong?
No, holiday traditions vary. Bruce Willis telling Hans "Yippee-ki-yay, motherfucker" gets me in the giving spirit as much as Ralphie shooting his eye out.
– Sean Beckwith
McLaughlin Group Region No. 5: Off the Wall vs. Thriller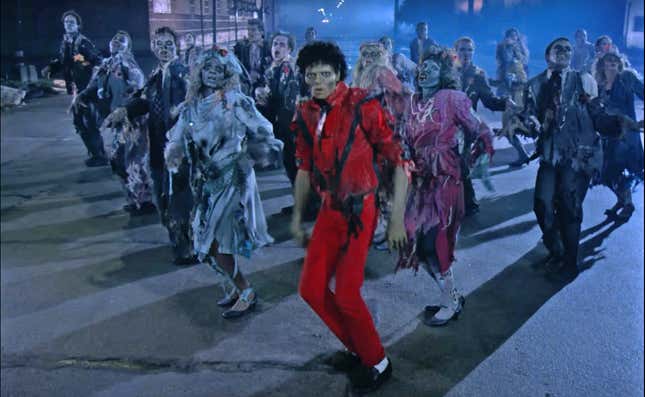 If you care for Mike Greenberg's take on this debate, he sides with Michael Jackson's 1979 R&B soul classic, Off The Wall as opposed to the pop culture tour de force that is Thriller.
This is music, so how a person feels about this debate that has been raging for four decades is largely a matter of taste. Off The Wall still feels like the 1970s. The title track, "Rock With You," "Get on the Floor," can make people want to do their best Rerun impersonation.
Thriller has an entirely different groove. The album booms at you with the first track, "Wanna be Startin' Somethin'," which almost sounds like something that was held over from Off The Wall. Then it slows down, and on track No. 3 Paul McCartney is telling listeners that "the doggone girl is mine." But once you get to the title track the next few songs are a parade of 80s synthesizers ready to thump in your car home stereo system, and at stadiums all over the world during The Jacksons' Victory tour.
There is no debate about which album is more successful. Thriller is estimated to have sold 70 million copies worldwide. It set a pop music standard that everyone has tried to reach.
Still, if you're like Greenberg, sometimes you just want to boogie and that is what Off The Wall provides.
– Stephen Knox
McLaughlin Group Region No. 4: Marvel vs. DC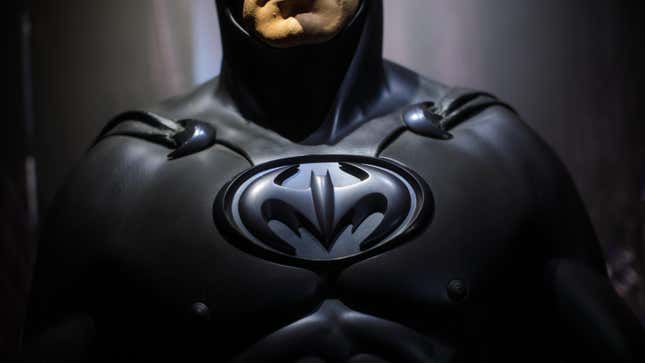 It's been fascinating to watch the polarity of Marvel and DC's trajectories over the last decade. On one side of the comic book franchise rift, Marvel has created the greatest shared universe known to mankind. The DCEU has manifested the messiest shared universe in the film industry. The Snyder-verse, Ezra Miller's cult, Sad Batfleck, and the revolving door of Warner Bros. overlords, have made it impossible to keep track. Marvel has made it impossible to keep track due to their overcomplicated series of interconnected streaming series, movies that continue streaming series storylines, and multiple timelines. Marvel has hit a rough patch, but DC Comics and Marvel Comics have been in a tug-of-war for supremacy for decades. How will it end? Until we get Marvel's starting five against DC's starting five in a final showdown, this supes battle will rage on.
– D.J. Dunson
McLaughlin Group Region No. 11: Who is baseball's true home run king?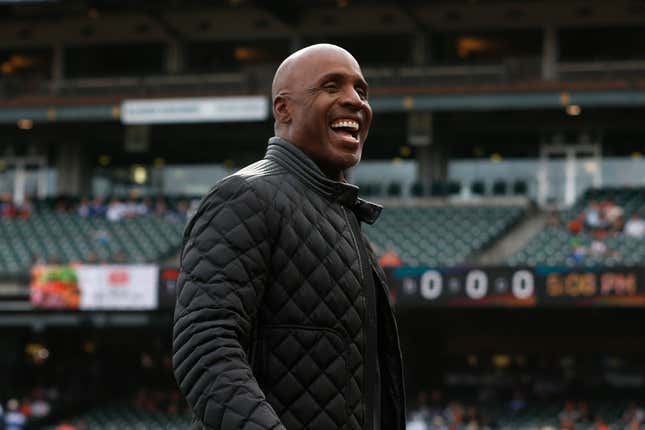 Barry Bonds hit 762 home runs in his career, but does there need to be a B.S. and A.S. next to each one — before alleged performance-enhancing drug use and after?
He was thin early in his career, then he was huge in 1999. It was 2001 when his hitting totals soared far past what was believed capable of any mortal. He recorded a 200-plus OPS+ in four consecutive seasons beginning in 2001. During each of those seasons, he walked a minimum of 148 times and still hit at least 45 home runs.
Bonds never tested positive for performance-enhancing drugs, but reporting has linked him to use. He has still not been voted into the National Baseball Hall of Fame. Because of these PED allegations, there are people who think he is neither the all-time, nor single-season home run king.
Do allegations erase history? Bonds is far from the only player with reported PED allegations levied against him. Many other MLB legends from that time are still on the outside looking in of the hall of fame due to the same allegations.
Did he do what he thought was necessary to compete? Is he a cheater who deserves punishment? Are any of these allegations so credible that he deserves to be exiled from MLB history?
– Stephen Knox
McLaughlin Group Region No. 3: Kobe Bryant vs. Shaquille O'Neal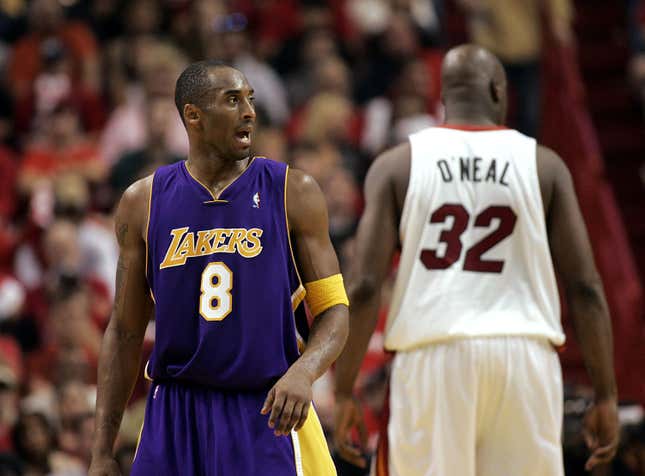 The greatest rivalry of the aughts. Forget Ja Rule and 50 Cent or the Indianapolis Colts and New England Patriots. After the turn of the century, everyone was tuned into The Real Housewives of Downtown LA.
A dynamic duo that has never been matched in the NBA. Two superstars in their MVP prime playing alongside each other, Kobe Bryant and Shaquille O'Neal. One had a Nintendo 64 game and the other advertised Nestle Crunch Bars and had a signature sneaker at Famous Footwear.
When playing together they were dominant, but to say their relationship had its "frosty" moments would be like saying February in Minnesota is brisk. Bryant didn't appreciate O'neal's offseason training and O'Neal did not appreciate any time that his name was in Bryant's mouth.
If the Portland Trail Blazers could have made just a couple of more shots in Game 7 of the 2000 Western Conference Finals, those two likely go down as the most disappointing duo in the history of the NBA. Instead, the Blazers were as accurate as Tim Tebow at practice and a dynasty was born.
The people of Los Angeles are firmly on Bryant's side and have been for a long time. For the rest of the county, this is certainly a "pick 'em situation.
– Stephen Knox
McLaughlin Group Region No. 7: Tom Brady tuck rule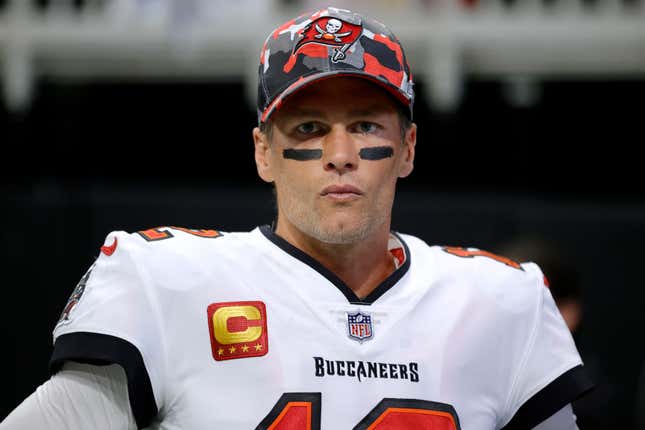 Letter of the law vs. spirit of the law. That is the tuck rule game.
Tom Brady absolutely fumbled that football during the final game at Foxboro Stadium in 2002. It was ruled a fumble on the field. Anyone not blinded by New England Patriots fandom or the blowing snow would agree, but that is not the decision that the referees came to after a video review.
According to what would become known as "The Tuck Rule," Brady kept possession of the football. He had already started a passing motion, so even though he cradled the ball like a runner, by rule the play should have been called an incomplete pass and the Patriots kept the ball.
A technicality that set the greatest dynasty in NFL history in motion.
In baseball, the "neighborhood play," prevented situations like this. A base runner called out at second while a double play is being turned is still out if the defender's foot wasn't on the bag. If the foot is near the bag, we get the picture. The base runner was beaten to the bag by the defense. These days a play like that is reviewable and if the defender's foot isn't on the bag the runner is safe.
Is that better for the game or worse? With the tuck rule — which no longer exists — is reasonable doubt enough to overturn what looks like a clear win for the defense?
– Stephen Knox
McLaughlin Group Region No. 2: Is a hot dog a sandwich?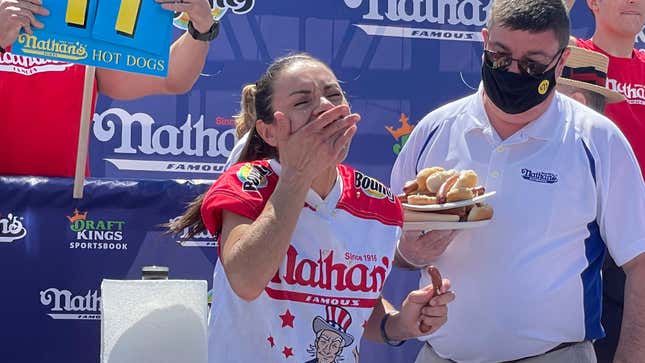 This inane argument from the internet is dumb people's way to sound smart. A hot dog is part of the cased meat portion of the food pyramid. They're a cousin of sausage in the same way mac and cheese is a cousin of pasta. And shame on sandwiches for trying to come in and claim the transcendent tube delight in service of greed.
Putting something between bread does not make it a sandwich. You know a sandwich when you see it, and if someone were to give you a hot dog halved and then sliced lengthwise between two slices of Wonder bread you'd cuss them out. Alabama has a more legitimate claim to Jalen Hurts than sandwich does to hot dogs, and Hurts is an Oklahoma Sooner.
– Sean Beckwith